Fuzzy Pink Time Babies is the 20th episode of Season 1 of Summer Camp Island and the 20th episode overall.
Oscar and Hedgehog learn how to stop time using Time Freezing Moon Rocks
Oscar and Hedgehog are playing 'Snakes,Hands,Ladders' which is a game they created together. After Hedgehog beats Oscar, her father calls her. He states that a place has open up in Business camp and that she will be leaving on the ferry the next day. Susie appears and tells Hedgehog that she will have to spend her last night on the beach so that they can prep the room for the next camper.
Characters
Edit
It's ending theme is Witch's Lullaby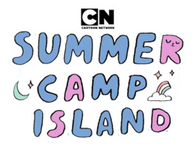 Click here to view this page's gallery.
References
Edit