Monster Babies is the 2nd episode of Season 1 of Summer Camp Island and the 2nd episode overall.
Alice lures Oscar and his monster friends for a tea party, but only to turn the monsters into cute babies.
The episode begins with Alice performing multiple spells turning things cute. However Susie proclaims that turning inanimate objects cute is boring, lead Alice to realize she needs a challenge. After seeing Freddie walk near by Alice test her magic and turns him into a baby. She decides to turn them all into babies, but realizes they don't trust her. Meanwhile Oscar, Howard, and the other monsters are on a nature hike. Alice attempts to trick Oscar into helping her get close to the monsters. After attending a tea party Alice casts a spell turning them all into babies and gives them away to the other campers. Oscar attempts to get Alice to change them back, but she refuses. Oscar eventually runs into Hedgehog and Max where tells them about Alice's actions. They agree to help and realize that in order to get them to turn back to normal they need to make the other campers give them up. They rebuild the water slide and convince the campers to give up being responsible and return the monsters to Alice. Alice becomes upset with the turn of events and the monster proclaim they will never trust the witches again . Freddie begins to cry for wishing to be a baby again for love. Alice turns Freddie back into a baby and crawls to the other monsters. Howard carries little Freddie as they and the other monster return to the forest. Oscar then says to Alice that she really is the second nicest witch.
Characters
Edit
It's ending theme is Witches' Samba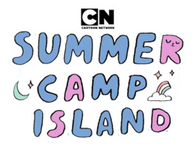 Click here to view this page's gallery.
References
Edit