Popular Banana Split is the 11th episode of Season 1 of Summer Camp Island and the 11th episode overall.
Hedgehog and Max discover a tiny high school when they are accidentally shrunk by a science experiment.
While attempting a science experiment, Hedgehog and Max get shrunk down and go to a high school for food where they must help photo journalist Cinnamon Raisin Toast go to prom with jock Popular Banana Split. Meanwhile, Oscar tries looking for his friends and ends up going feral.
Characters
Edit
After Hedgehog changed Cinnamon's shirt from "I love Scoops" to "I love Hoops" using a red marker, the text appeared as if it was already printed on the shirt without the need of Hedgehog having to change it in the next scene.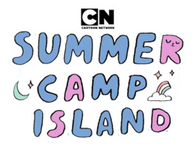 Click here to view this page's gallery.
References
Edit