Summer Camp Island is a Cartoon Network animated series which also airs on Boomerang. The television series originated from a short pilot, which premiered at Sundance Film Festival as a part of the Animated Shorts category. The series is created by Adventure Time's Julia Pott. [1][2]
The series was picked up by Cartoon Network and was scheduled to premiere on July 7, 2018. [3][4] A 48-hour uninterrupted marathon aired the first 20 episodes from season one, simultaneously through Cartoon Network and Boomerang. The second half was scheduled for late 2018, and will contain another 20 episodes. But has been delayed, and mostly likely will be released in early 2019.
The studio involved with the series animation is Yowza! Animation.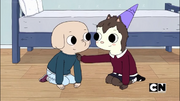 Away from their parents, best friends Oscar & Hedgehog must summon all their courage to navigate mysteries and wonders of a magic sleep-away camp where camp counselors are popular girl witches, horses become unicorns, and monsters live under the bed. Not all camps offer the opportunity to swim with a talking shark in the swimming pool, crawl under the bed into a different universe, or make friends with the moon, but on Summer Camp Island, anything can happen.[5][6][7]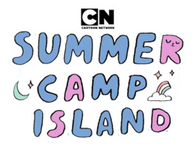 Click here to view this page's gallery.
References
Edit