Summer Camp Island (Pilot Version) is the official backdoor pilot of the series of the same name. The short was a pilot that was pitched to Cartoon Network in order for the pilot to expand into a full series.
Oscar wants to make his stay at Summer Camp Island as normal as possible so he decides to have a sleepover with Hedgehog whom he secretly has feelings for. However, when Hedgehog invites Max and several other friends over, Oscar gets frustrated by their surreal antics.
Characters
Edit
The pilot was an overall success in marketing and Cartoon Network had picked up the series on January 30, 2017.[1]
It has many differences from the series. Some examples are Max being a bat instead of a badger, etc.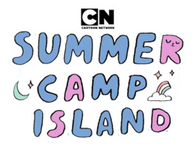 Click here to view this page's gallery.
References
Edit